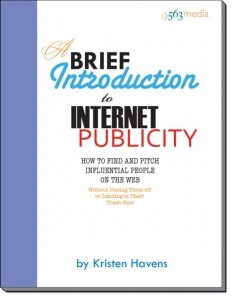 The store is now open! I've been in the process of transitioning my business model and websites to focus more on content, including helpful guides and ebooks. The first product is A Brief Introduction to Internet Publicity, which I initially offered via 563media.com in January, 2012. This book is now on sale for $8.95 — 55% off the original price.
Also, two sales tips for writers, publishers, and indie authors: 
Promote your books on Pinterest. Just source your image from a sales page and include your item's price in the description. When people click on your book cover, they'll be taken to a page where they can buy.
Sell your books through Scribd. Anyone can sell any document through this easy-to-use social site — even PDFs are welcome. Scribd takes 20% + $0.25 of every sale. They claim their top performers gross $10,000 a month. Why not give it a try? (I am.)
Do you need more specific instructions on how to accomplish the above?  Contact me to arrange a quick consult.